"He's One Of The NFL All-Time Greats"
April 14th, 2022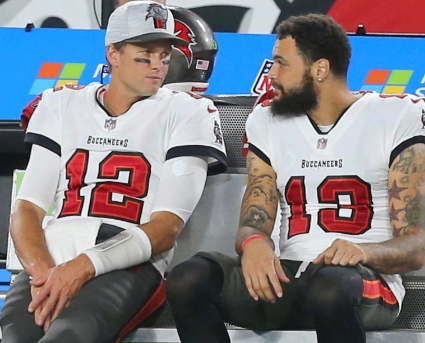 It always feels good to take a Mike Evans appreciation break. This time it's courtesy of Tom Brady.
The greatest receiver in Bucs history holds all kinds of franchise records and even a couple of NFL marks.
One of Joe's favorite yet rarely talked about achievements is Evans' 75 career touchdown passes — in just eight seasons.
For perspective, if Evans catches 10 touchdowns this season, then he'll move into the top-20 in NFL history, passing various legends and Hall of Famers before he turns 30.
"When you're in my position, you're looking at other players, you know. That's what you're looking for; you're looking for someone that's going to be great every day," Tom Brady told In The Current at Buccaneers.com. "It's been a real privilege for me to play with him. He's one of the all-time NFL greats."
Yes, Evans is an all-time superstar. And of course, Brady is focused on daily consistency and greatness.
Joe thinks Evans is poised for his best NFL season this year. He should get more targets with Chris Godwin hurt and Antonio Brown busy partying and complaining. Plus, he and Brady should reach a higher level of chemistry in their third season together, and with Brady having more say in the offense than ever.
Enjoy the latest Ira Kaufman Podcast!