The Bucs And Akayleb Evans
April 13th, 2022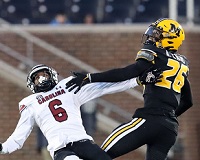 One of general manager Jason Licht's more interesting and candid chats came before the 2019 NFL Draft.
Joe notes "candid" because GMs usually are oozing BS and dealing in half-truths when talking publicly to media.
This chat on SiriusXM NFL Radio three years ago felt legit. Licht explained that big athletic corners are more important than ever because receivers don't run true routes any longer.
"So the corner that had all the great change of direction and all that stuff, you know, that's still a valuable asset. But if you're long and you can run a little and you're instinctive and you can tackle, you know, you're going to be able to cover these guys now," Licht said. "So that's just the way the game has kind of morphed."
Joe heard that and felt like Licht sort of was saying that he'll never draft a Vernon Hargreaves-type cornerback again.
So what did Licht do seven weeks later? He drafted 6-1, 206-pound cornerback Jamel Dean late in Round 3 of the draft, after grabbing fellow long corner Sean Murphy-Bunting in Round 2. Murphy-Bunting had the resumé, albeit at Central Michigan, and the athleticism. Dean could fly and jump better than most, but he had a long injury history and was no superstar.
Of course, both became Bucs starters and won Super Bowl rings.
Now here comes the 2022 NFL Draft and the Bucs could use a cornerback for depth and special teams. So Joe's looking at long college corners with diverse skills and a love of tackling. And perhaps the longest corner in the draft, Akayleb Evans out of Missouri, could be there for the Bucs late in Round 3.
Evans, at 6-2, 200 pounds with long arms, was a star at Tulsa before his one and only season at Missouri last year. Like Dean, injuries were an issue for Evans early in his five-year college career, but he handled the transition well to the SEC last season.
Evans also is a standout off the field. The dude launched his own charitable foundation in high school and it's still in operation.
Joe expects the Bucs to draft a legitimate cornerback prospect at some point this month. Evans seems very much in the Licht mold.