Jason Licht: Gronk & Suh Decisions Won't Have Major Impact On Draft
April 19th, 2022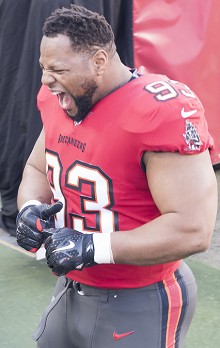 Future Hall of Famers Rob Gronkowski and Ndamukong Suh are in the balance, old free agents contemplating their futures.
Bucs general manager Jason Licht was asked today about how their statuses might affect the 2022 NFL Draft. Licht danced around the question but made it clear that their decisions won't move the needle much.
It's a slippery slope to even go there, Licht explained. "You never really want to push a need or a perceived need too high up. That's when you make mistakes," Licht said.
The GM emphasized that again later in his annual pre-draft news conference. Need cannot take over on draft day and respect for the team's draft board has to remain a driving force, Licht said. However, Licht said he has a "need" board and an overall board.
Licht did not reference the fact the Bucs only have $4 million remaining under the 2022 salary cap, and they'll need about $7 million for their draft class plus reserve cash for emergency signings prompted by injuries.
So signing Suh and Gronk would require work on the accounting side and other players to redo contracts.
If Joe had to pick, Joe would take Gronk over Suh in a heartbeat.