"I Would Say That This Is His Final Season"
April 20th, 2022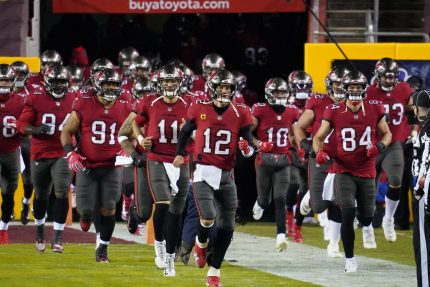 Surprise! Tom Brady was a topic on ESPN TV this morning as two guys who know him well spoke with conviction.
The show was Get Up, which Joe prefers to call "Stay In Bed." But sometimes it's worth watching, which is why Joe's staff of 16 1/2 interns always monitors the broadcast.
NFL and renowned Brady insider Jeff Darlington, the pride of Pinellas County, was on today and was introduced by host Mike Greenberg as someone who knows Tom Brady well.
Darlington said he believes Brady views the 2022 season as his last in uniform. "I would say that this is is final season."
Former Brady teammate Rob Ninkovich, who said he recently hung out at the home of his pal Rob Gronkowski, was adamant that Brady doesn't want to go out with a farewell-tour season and he won't admit he's entering his final year.
"I have the feeling that he's realizing this is his last season," Ninkovich said of Brady. "He doesn't want every game like, 'This is his last home game. This is his last away game.' He doesn't want that, the last touchdown pass. He just wants to go out there and perform at a high level and help his team win."
Interestingly, Ninkovich and Darlington had slightly somber tones to their voices. They are either good soldiers for the official yet unspoken Brady corporate message, or they truly believe Brady's entering his final days wearing a helmet.
Joe will say that if Brady truly does not want a farewell-tour kind of season with rampant speculation and distractions, then he can sign a contract extension with the Bucs right now and simply retire after the Super Bowl.