Bucs Teammate Explains "Insane" Tom Brady
April 4th, 2022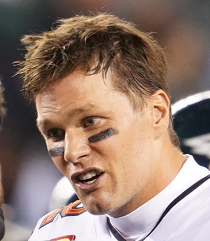 Is Tom Brady crazy?
Well, a Bucs defensive player says he is and explained his views.
Joe's referring to outside linebacker Anthony Nelson appearing on the Sir Yacht podcast.
Nelson says Brady's impact on the Bucs roster is otherworldly and spreads to every player.
"He's crazy. He's insane in a really like highly competitive way. But he's nuts," Nelson said. "Even the highly competitive people in the NFL, like he's just miles above everybody else. 'Unfinished business,' when he says that he means it. Like he is crazy meticulous and he is crazy competitive. Everybody [on the team] is looking around like, 'This is Tom Brady. He's got seven rings and he's worried about this one throw in practice?' It's crazy to see but then it kind of pushes everybody else."
Nelson went on to say Brady's unretirement is inspiring and he will continue raising the game of every Buccaneer. Brady's greatness and rabid obsession over ever detail drives players, Nelson said, because "everybody here knows he's better than us" and you have to try and stretch to Brady's standard.