"Bring Your Tractor To School Day"
April 30th, 2022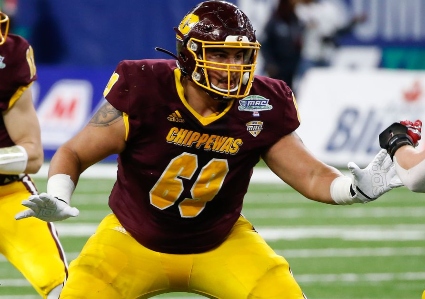 Anyone has ever driven from Milwaukee to a game at Lambeau Field in Green Bay pretty much has an idea of the background of new Bucs guard Luke Goedeke.
Drafted late in the second round last night, Goedeke, who grew up 40 miles south of Green Bay, played at Central Michigan after transferring from Division III Wisconsin-Stephens Point where he was a walk-on tight end.
Goedeke was not recruited coming out of high school. He said in speaking with the Tampa Bay pen and mic club that a reason he wasn't recruited is because his high school was only 350 students and well off the beaten path.
"We had 'Bring Your Tractor to School Day.'" Goedeke said.
The guy just screams "Jason Licht" through and through. Licht always talks about how he likes offensive lineman "nasty" and "grimy," and Goedeke used those words to describe himself and embraced the term "glass eater."
Goedeke admitted that former Bucs guard Ali Marpet, a former Division-III player at Hobart College, is sort of a cult hero to guys from small schools and Marpet's history with the Bucs gives those guys hope.
Goedeke could not contain his excitement when asked about blocking for Tom Brady. He admitted Brady is his favorite quarterback and whatever team he plays on is his favorite team. And then Goedeke confessed treason in the Land of Cheese, admitting the Packers are not his favorite NFL team.
"Growing up in Wisconsin, you're supposed to root for the Packers somewhat," Goekeke bravely said. "But I was a Patriots fan."
And now, he's not just a Bucs fan, but likely responsible for keeping Brady upright.