"We All Need One. Everybody Does."
March 3rd, 2022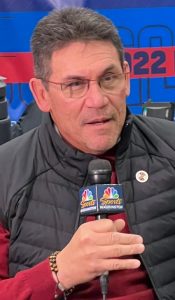 As if Joe's chat with Ron Rivera about retired Ali Marpet yesterday wasn't sobering enough, the Washington head coach also dropped what felt like a gut punch on Joe.
It's well known that Rivera has been very public about his team's quest for a new starting quarterback. Apparently, mediocrity with Taylor Heinicke doesn't sit well with Rivera, and neither does the prospect of Ryan Fitzpatrick returning from injury.
So of course Joe ran a quarterback question past Rivera and his dejected tone of voice and facial expression will be invisible right here, but the reply was "We all need one. Everybody does."
Chatter everywhere at the NFL Scouting Combine, including Seattle head coach Pete Carroll's comments, says the Seahawks won't let go of Russell Wilson. Niners QB Jimmy Garoppolo now has a new injury and won't throw until July, and DeShaun Watson's issues aren't evaporating. Meanwhile, the Colts' brass appears completely split on what to do with Carson Wentz and Broncos analysts are praying Teddy Bridgewater doesn't return to Denver.
Joe's almost ready to buy a Kyle Trask jersey or send Tom Brady flowers and an invitation.