Tom Brady "Heat Check" Is At A "7"
March 7th, 2022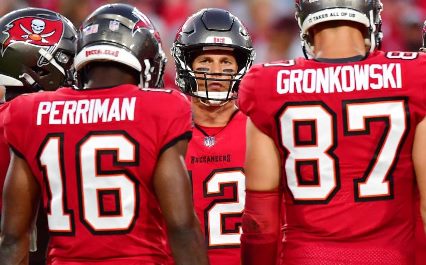 A well-regarded, highly-connected and respected NFL guy just spent a week talking to a sea of NFL power hitters in Indianapolis and came out believing a Tom Brady return is more likely than not.
Joe's talking about the face of NFL Network, Rich Eisen, who worked the NFL Scouting Combine.
The Brady drama/saga/story won't die, in part because Brady won't kill it, Eisen said on his radio show today, in addition to what Eisen says he's hearing about the possibility of Brady coming back to play.
So Eisen said he'll now be running a frequent Brady "heat check" on his show to assess the changing temperature of this saga. Today Eisen said he puts Brady's return at a "7" on a 0-to-12 scale, noting that someone he trusts is telling him that Brady currently adhering to his rigid diet means he's still contemplating a return to the field.
For those unaware, the Bucs hold Brady's rights and Bucco Bruce Arians says the team will not give them away unless the payout is five first-round draft picks.
Joe is as hopeful as the next Bucs fan that Brady returns to play for Tampa Bay. But it's too much of a fantasy for Joe to take on right now, and Joe has a quite a fantasy life.
Still, why are so many Brady-loving big names playing this game? Hey, a "7" is better than "a 42 percent chance."