The Salary Cap Excuse
March 21st, 2022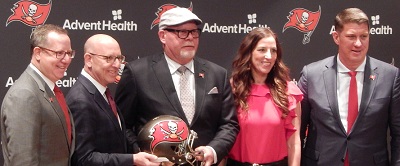 This was a topic on an Ira Kaufman Podcast episode last week and it needs its own written space.
Regular readers know Joe is addicted to the NFL. One of these years, Joe will watch every game in a given season on NFL Game Pass (about 45 minutes each in condensed form plus rewinding). Last season, Joe just missed watching every NFC South game.
Joe follows the NFL in similar fashion. So it's been extra interesting this week hearing Patriots fans and media crying and crowing about how they were misled over the years when they were told things like, "Hey, we can't keep all these players and compete in free agency and still pay Tom Brady."
They're unhappy up in New England about the Patriots letting Shaq Mason go to the Bucs while they have a young and inexpensive quarterback and aren't doing a ton yet to improve their playoff team. And they also see what Bucs general manager Jason Licht has done to turn his roster into a wrecking ball with Brady.
Before listening to the chatter in New England, Joe was ranting about how Licht's spectacular work manipulating the salary cap makes Joe look to the past and wonder why the Bucs didn't do some of this earlier.
Look at the 2017 season. Entering the year with a young, inexpensive quarterback on the rise and a 9-7 team, Bucs head coach Dirk Koetter openly said the team didn't have the money laying around to sign defensive lineman Calais Campbell, who went on to quickly dominate in Jacksonville.
Doesn't that seem like a steam pile of BS in retrospect?
It was. And there are several other examples through the years. The main point is that the Bucs organization has revolutionized its mindset and approach.
It feels like it took Tom Brady to give the organization the push to attack winning with a heightened urgency, vigor and passion.
Maybe it started with Team Glazer giving an unprecedented green light to throw around fat signing bonuses that, for salary cap purposes, can be prorated over several years. That requires dishing out wads of cash upfront, and that wasn't the Bucs' way for many years.
Fans have heard a lot about the Tom Brady Effect and the legacy he'll leave on the roster. Joe hopes some of that runs up the chain at One Buc Palace.