Sony Michel & The Bucs
March 20th, 2022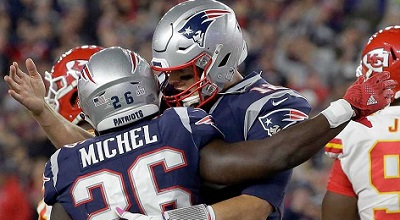 Running back Sony Michel, a guy who owns two Super Bowl rings after being drafted No. 31 overall in 2018, is an interesting guy as it relates to the current state of Buccaneers football.
Michel, 27, had a strong 845 yards and four touchdowns rushing for the Super Bowl champion Rams last season, averaging 4.1 yards per carry, and he broke through a bit as a pass catcher pulling in 21 balls.
He's a proven player and a free agent as the Bucs are negotiating (hopefully) with Leonard "Show Me The Money" Fournette.
Drafted by the Belicheats four years ago, Michel jumped right into the mix and not only became an emerging beast during New England's regular season. He went all Playoff Sony in the postseason with six touchdowns in three games, including the game winner in the Super Bowl. And a winning TD in that defensive slugfest of a Super Bowl was an extra big deal.
Joe is thinking more about Michel today as there may be a line in the sand to signing Fournette that the Bucs won't cross.
Tom Brady spent two seasons with Michel, who might be half the price of Fournette. But Joe's mind is going to how Brady already knows how a rookie running back can transform an offense.
Maybe, just maybe, the Bucs are thinking (with Brady's blessing), of rolling with a rookie RB year in Round 1 or 2 of the draft, and letting him compete with Ke'Shawn Vaughn and other veterans.
Brady's been down that road before successfully with Michel.
Enjoy Saturday's Ira Kaufman Podcast!