So, What Is Camille Kostek Smiling About?
March 13th, 2022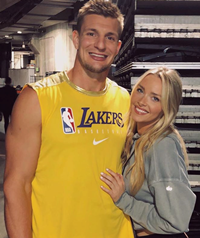 Diehard Bucs fans follow and monitor on social media just about everyone connected to the Bucs, from AC/DC-loving general manager Jason Licht down to the lowest of employees.
And sometimes, even Bucs WAGS just like Rob Gronkowski's Sports Illustrated Swimsuit cover girl Camille Kostek.
First off, why the hell wouldn't you follow Camille on social media? Forget Gronk. But Camille also posts Bucs-related updates, more so than her significant other will.
So now that Tom Brady has unretired and will stay on the Bucs roster, there is a lot of speculation that it is just about a slam dunk that Gronk will return too. So Joe has to point out Camille's post on her Instagram stories account.
Camille has a post on Brady's return and behind her Jackie O sunglasses she has a big smirk on her face. Why?
Joe guesses she's very, very happy her man is going to pocket a many million more dollars before the end of the year.