Salary "Would Not Be A Prohibitive Factor"
March 16th, 2022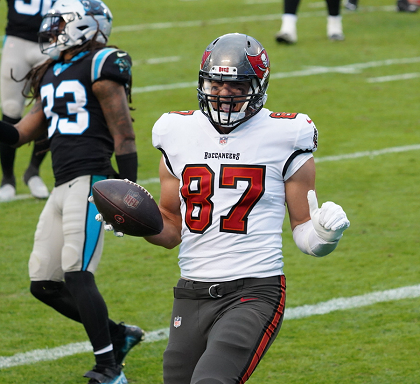 Whatever you need, Tommy.
That's the mindset at One Buc Palace right now, as it should be.
Tampa Bay should not only be reloading their iconic offense, they should be making it as attractive as possible so Tom Brady wants to stay for 2023. Yes, 2023.
Adding speedster receiver Russell Gage and two-time Super Bowl champion guard Shaq Mason yesterday was huge.
One way to keep the momentum and the Brady love flowing would be re-signing Rob Gronkowski and Leonard Fournette. But both could cost salary cap room the Bucs simply don't have (yet).
Joe has to think Gronk is the bigger priority, and NFL Network reporter Cameron Wolfe seems to know it is. Wolfe was firm yesterday on the air saying Bucs officials have let it be known that Gronk's salary demands "would not be a prohibitive factor" in re-signing him. The Bucs will make it work.
Of course they will.
Look for multiple rookies to play significant roles on the Tampa Bay defense this season.
Bucs moves look like those of a team prepping for Tom Brady to play two more seasons.

— JoeBucsFan (@JoeBucsFan) March 16, 2022