"It's Time For You To Take Over, Bro"
March 16th, 2022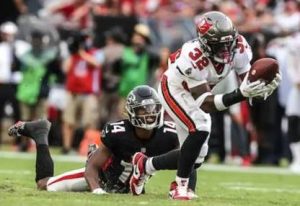 Safety Mike Edwards has seven career interceptions. That's more than break-the-bank Bucs cornerback Carlton Davis has in triple the career snaps, including playoffs.
Heck, Edwards' hands are so good he even picked off a phony vaccine card.
A great unknown of the past couple of seasons is what versatile Edwards, a third-round pick in 2019, would produce if he got a chance to be a full-time starter. He's a ballhawk and can cover, and has had his share of great-hustle moments.
Bone-crushing safety Jordan Whitehead is now a member of the New York Jets on a fat contract. Joe is sad about losing the hardest hitting Gravedigger. Whitehead himself took to Twitter to wish his understudy great success in a starring role. (Tweet below:)
It's a contract year for Edwards, who turns 26 in May.
Stats aren't everything, but in addition to out-ballhawking Davis, Edwards has more official passes defensed than Whitehead over the past three seasons.
Everyone knows Edwards can play. But can he be consistent and durable as a starter? It looks like the Bucs are going to find out.
I appreciate u brother! Business is shady but it's time for you to take over bro I can't wait 🙏🏾 https://t.co/yLVm42RBDe

— jordan whitehead (@jwhite_333) March 15, 2022