Report: Deshaun Watson Is Prepared To Play For Carolina
March 12th, 2022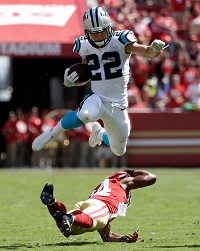 It seems there's a great chance the Falcons will no longer own the honor of having the best quarterback in the NFC South.
Per ESPN Panthers reporter David Newton, creepy Texans quarterback DeShaun Watson is not expected to exercise his no-trade clause when it comes to being dealt to the Panthers. So the path is cleared for his landing in Carolina.
The Panthers hold the No. 6 overall pick in the 2022 NFL Draft. The Bucs own pick No. 27 overall. That's a massive gap and an insurmountable one if the Panthers are willing to match a Tampa Bay offer for Watson that involves only draft capital.
Also, the Panthers have a treasure chest of young stud defensive players to deal for Watson. Despite a miserable offense, Carolina allowed the second-fewest yards in the league last season.
Somebody call Tom Brady.