Last Minute Won't Work For Bucs
March 7th, 2022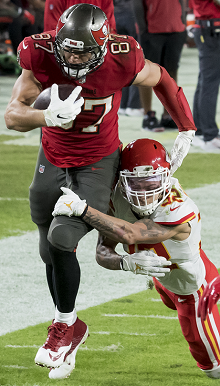 We are now exactly seven days (and zero seconds) until the Bucs can head outside their organization to put contracts in front of free agents — if they can't retain their own.
The Bucs cannot play games waiting on their in-house guys. Those decisions must come by first thing next Monday morning.
The absolute worst case scenario would be the Bucs waiting around on Ryan Jensen, Chris Godwin, Will Gholston, Leonard Fournette, Rob Gronkowski, Alex Cappa, Jordan Whitehead and others while the rest of the league is making its chess moves when the free agency tampering/negotiating window opens at noon on March 14.
Deals in principle for free agents moving to new teams will be announced by Adam Schefter, Jay Glazer and other NFL insiders by next Monday afternoon. Those deals can be made official on Wednesday, March 16.
It's rare for an in-house free agency deal to come down to the very last second. That happened with the Bucs and Doug Martin back in 2016, but that's the exception to the rule.
First, the franchise tag deadline is tomorrow at 4 p.m. Joe expects the Bucs to use it on Chris Godwin unless both parties already are on the same page regarding a long-term contract. For everyone else, the Bucs need to nail guys down in less than seven days.
There are too many variables, too many key starters, for general manager Jason Licht to have a bunch of question marks floating in the wind. It's not like the Bucs have one big free agent. It's far more complex than that.
Joe actually expects some Bucs re-signings to be announced in the next 72 hours.