Franchise Tag Imminent For Chris Godwin
March 7th, 2022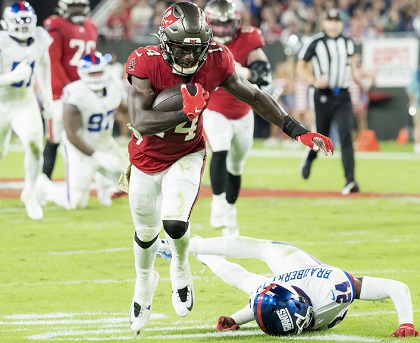 Joe is resting somewhat comfortably this afternoon.
It's been obvious for days since Joe asked both Bucco Bruce Arians and general manager Jason Licht last week about the knee-surgery recovery of Pro Bowl receiver and pending free agent Chris Godwin.
Both Arians and Licht had great body language when talking about Godwin. Arians said Godwin was at "45 percent" health following ACL surgery. Licht said the signs were good and he couldn't imagine his team without Godwin.
That's a lot different than, say, the State of the Ronald Jones Address.
This morning, ESPN super insider Adam Schefter was Twittering about the likelihood of Godwin getting the franchise tag for the second consecutive season before tomorrow afternoon's deadline. If Godwin signs it, that's locking down a $20 million salary for 2022.
However, what gets lost often is that getting slapped with the franchise tag doesn't stop teams from continuing to negotiate with a player on a long term contract. So the Bucs can tag Godwin and then work out, say, a five-year contract that's backloaded to help their cap situation this year.
The Bucs would have to be stone cold morons to break up the dynamic and versatile duo that is Godwin and Mike Evans. You don't do that in a passing league, especially when you don't have a proven quarterback.