"It's Taken Us Some Time To Build Up That Back Half"
March 30th, 2022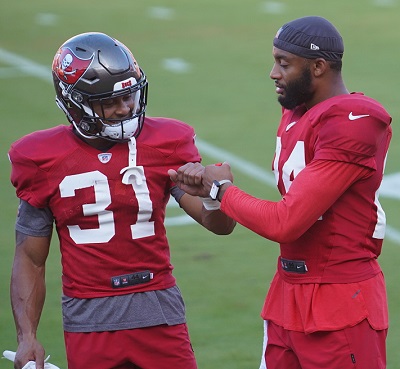 Imagine if Team Glazer got impatient with general manager Jason Licht and pulled the plug on him after the 2018 season.
You know, thrown Licht in the trash with Dirk Koetter and Gerald McCoy.
A new Bucs general manager coming in no doubt would have handled the secondary differently. The dude probably would have panicked in a hurry. What did Licht do? He drafted cornerbacks Sean Murphy-Bunting and Jamel Dean, plus safety Mike Edwards in the 2019 NFL Draft.
All three, plus 2018 draftees cornerback Carlton Davis and safety Jordan Whitehead, played huge roles in the 2020 run to Super Bowl glory.
It's a story of patience and process, and Licht conjured the memory for Joe at the NFL Owners Meetings this week when he said, "It's taken up some time to build up that back half."
The quote from Licht came when he was speaking about retaining Davis with a big contract and keeping the defensive backs together as best he can. Licht was clear that he didn't want to lose Jordan Whitehead to the Jets, but no great team can keep its best players year after year.
Of course, Licht drafted Pro Bowl safety Antoine Winfield, Jr. in 2020 (second round), and signed two-time Super Bowl corner/safety Logan Ryan last week.
Licht sure has rewarded Team Glazer for its patience after back-to-back 5-11 seasons.
Retaining Licht might have been the best ownership move since ending local TV blackouts or deleting the stupid Siege The Day slogan, none of which should ever have been inflicted on innocent Bucs fans.