Consider Chandler Jones In Play
March 6th, 2022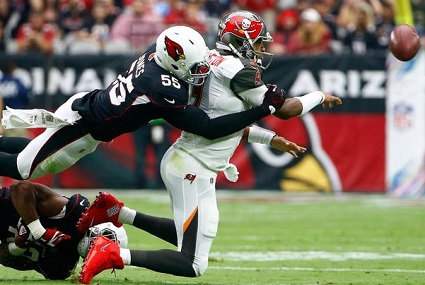 Joe firmly believes when a durable Hall of Fame grade pass rusher is available in free agency, the Bucs always should be interested and prepared to strike.
Would the Bucs have been a playoff team in 2010 if Julius Peppers was starting in place of Stylez White? They sure would have been. Instead, the Bears won the bidding for Peppers that offseason and very quickly landed in the NFC Championship game.
Yes, the Bucs now have salary cap challenges, but reports now say the Cardinals are not slapping the franchise tag on mighty, do-it-all edge rusher Chandler Jones and Joe believes Tampa Bay must consider the pending free agent.
Jones, 32, is an absolute terrorist on the field every year. Six forced fumbles last season in 15 games (COVID cost him two absences), to go along with double-digit sacks and his overall complete game is an example of why Jones is annually a darling of the stat-nerd crowd. More importantly, he affects games.
Pair him with Shaq Barrett and both would instantly be better and potentially dominant if the Bucs allow Vita Vea to play more snaps.
Yes, adding Jones almost surely means losing Carlton Davis, Will Gholston and Ndamukong Suh. Adding Jones also strikes real fear in the heart of every defensive coordinator the Bucs will face next season.
Add Jones and all of a sudden the entire secondary looks a lot better.
It doesn't take long on Google to find out that Jones became a big fan of Bucco Bruce Arians when the Cardinals traded for him in 2016, one of the worst personnel moves of Bill Belicheat's career.
Jones is a long shot and may be considered out of reach by Bucs officials, but Joe thinks Arians and general manager Jason Licht should be thinking very long and hard.
Winning a Super Bowl will require making Super Bowl moves this offseason, especially if the Bucs are going to roll with Kyle Trask or Blaine Gabbert at quarterback.