Bucs Are A Box Of Lucky Charms
March 17th, 2022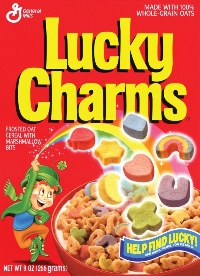 Today is one of the greatest days of the world. And no, it has nothing to do with an island in the north Atlantic.
Today, March Madness tips off. And suddenly like magic, America becomes a basketball country for the next three weeks and then the sport goes back into the shadows of football.
But yeah, Joe knows today is St. Patrick's Day. Joe has never been a huge celebrant. Joe cannot eat cabbage and linger in public, for example. And besides, Killians gives Joe a terrible hangover — and don't get Joe started about that rotten syrup Guinness.
(Now to be fair, who doesn't love a drunken blonde or a red-haired chick wearing one of those cheesy plastic green derby hats, a shamrock necklace and skimpy cheap green T-shirt?)
But here is a cool Bucs-related St. Patrick's story told by Kyle Brandt this morning on "Good Morning Football," seen weekdays on NFL Network. Brandt said the Bucs have become a box of Lucky Charms cereal.
Brandt said the Bucs are a "pot o' gold" this offseason, and here is Brandt's breakdown of the Lucky Charms characters and the Bucs:
Unicorn: Tom Brady. "He's back out of retirement. There is no one like him, [a] unicorn. Probably some sort of once removed from a goat."

Heart: Will go to Ryan Jensen. That's what he plays with. That's what he brings each and every snap. He brings it after the snap.

Shooting Star: Russell Gage. Because that's what he is. Anybody who made the 2021 list of Peter Schrager's Ones to Watch — yes Peter, I watch and remember — is going to be the shooting star charm.

Horseshoe: Goes to Chris Godwin. Because he certainly has some kind of luck and has somebody looking out for him. Coming off the injury, getting the extension. Godwin is the horseshoe (Brandt also pointed out how the horseshoe charm turns milk purple and that may be a reference to Godwin's physical play).

Rainbow: Will go to Shaq Mason. Because he is coming over from New England. Now he will see all the beautiful colors that is outside of that Foxborough bubble. Just like Tom Brady before him.
And then Brandt sang, "The Tampa Bay Buccaneers, they're magically delicious!"
Joe has never had Lucky Charms. Joe growing up was much more of a Captain Crunch guy or Honey Puffs.
But yeah, the way things have been going since Tom Brady showed up in Tampa, Bucs fans have found their pot o' gold. And maybe, just maybe, Bucs Super Bowl-winning coach Bucco Bruce Arians is a leprechaun.
Got your lucky charms right here buddy pic.twitter.com/NO5mnHmb6R

— Big Storm Brewing Co (@BigStormBrewing) March 2, 2022