Bruce Arians Retires; Todd Bowles Takes Over As Head Coach
March 30th, 2022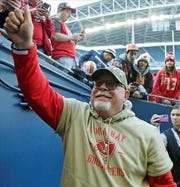 It's official.
And it's officially one hell of a wild offseason.
Bucco Bruce Arians has ridden off into the sunset in his golf cart.
Todd Bowles has been named the Buccaneers' new head coach, per a jaw-dropping report at NBC Sports.
Wow!
Arians isn't leaving the organization, per Peter King, he's now "senior consultant for football."
"He said he's relinquishing the Tampa job because "succession has always been huge for me. With the organization in probably the best shape it's been in its history, with Tom Brady coming back … I'd rather see Todd in position to be successful and not have to take some [crappy] job. I'm probably retiring next year anyway, in February. So, I control the narrative right now. I don't control it next February because [if] Brady gets hurt, we go 10-7, and it's an open interview for the job … I got 31 [coaches and their] families that depend on me. My wife is big on not letting all those families down."
Per the report, Bucs coaches learned of the change tonight.
There's more to the report linked above, but wow is this a stunner. And it sure smells like Arians pulled a power play on the Bucs to slam Bowles into the head coaching gig.
So what does Tom Brady think of all this? As King's report explains, many will speculate Brady wanted Arians out and got his way, but Arians addressed that and explained it is ridiculous and Arians' call for many reasons.