Bad Financial News For Devin White
March 20th, 2022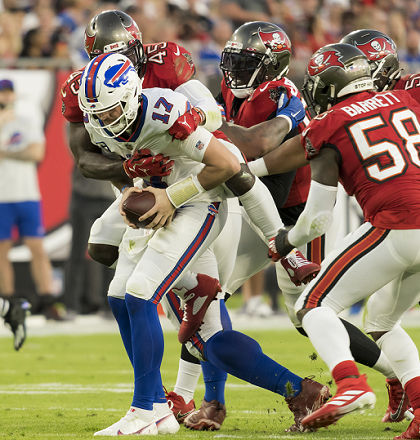 One way the Bucs could squeeze more room out of their salary cap would be to extend/renegotiate the contract of savior linebacker Devin White.
He's entering Year 4 of his Bucs tenure, so that is on the table, per NFL rules, if both parties are willing.
However, Mike Florio, the ProFootballTalk.com guru and Playmakers author, penned a piece today about the sagging market for inside linebackers in Day 6 of free agency.
Currently available inside linebackers include Bobby Wagner, Joe Schobert, Anthony Hitchens, Dont'a Hightower, Danny Trevathan, Nick Kwiatkowski, Kyle Van Noy, Jarrad Davis, Jayon Brown, Kwon Alexander, and Reggie Ragland.

Those who have hit the market haven't gotten gigantic money. Yes, De'Vondre Campbell secured a major contract to stay with the Packers, a five-year $50 million deal (but with only $15 million of it fully guaranteed at signing). Obviously, however, he never became a free agent.

Jordan Hicks, who instantly becomes a starting inside linebacker in Minnesota's new 3-4 system, signed a two-year, $10 million contract, with $4.45 million fully guaranteed at signing. The deal ties $1 million to per-game roster bonuses. If he plays in 34 games over two seasons, he gets an average of $5 million.
There's more to the story via the link above. White' salary is just under $5 million for 2022, but he'll county nearly double that against this year's cap. His fifth-year option (2023) would be $11.7 million, if the Bucs exercise it, per reliable Spotrac.com.
Joe wonders if the down market for inside linebackers will make the Bucs re-think how they handle White. The deadline to exercise the fifth-year option is in May. The Bucs and White could agree to a new contract at any time.