A Tom Brady Contract Restructure Is Next
March 13th, 2022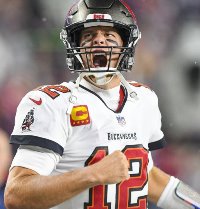 Time for Buccaneers general manager Jason Licht to put on his soccer shoes and kick that can down the road one more time.
Tampa Bay's salary cap issues are sure to improve now that Tom Brady is returning. Why? Because Brady didn't come back to lose and Joe has no doubt Brady and the Bucs already are working on a restructured contract.
Brady is set to count $20 million against the salary cap this season. Joe sure hopes the accounting nerds/gurus at One Buc Palace can find a way to shave that down considerably. Perhaps Brady even signs a new multiyear deal. His current contract runs through 2022.
Pro Bowl center Ryan Jensen is going to command at least $12 million per year to return in free agency, and perhaps now the Bucs can ink him to a long-term contract that would cost little cap room in 2022. Of course, the Bucs can still sign Chris Godwin to a long-term deal and tear up the franchise tag, which would clear more cap room this year.
Yeah, the Bucs defense is about to bank on rookies and take the hit of the Bucs doing whatever they can to keep Brady's offensive line and weapons intact. It's ok. Breathe easy. It's the necessary move.