"Your Standards Are A Little Bit Different Than Jimmy Garoppolo When You Lose Tom Brady"
February 4th, 2022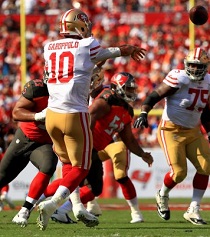 The Buccaneers need a quarterback, and they also need a quarterback capable of stepping in successfully — mentally and physically — for a legend who just threw 43 touchdowns against just 12 interceptions.
Replacing Tom Brady is a rough role on a veteran-laden Bucs team expected to win its division. There will be plenty of pressure, and not every player is used to a Bruce Arians kind of coach who is happy to verbally assault you.
There aren't many options, as Bucs fans know well. Aaron Rodgers is an unlikely dream and Russell Wilson would cost a load of draft picks (well worth it), but Joe's not sure why the Packers or the Seahawks would want to trade either quarterback within the NFC.
The latter could be said for Niners QB Jimmy Garoppolo, but Jimmy GQ is neither a Pro Bowler or expensive, and San Francisco won't be able to fetch much for him on the open market. Maybe a late second-round pick. Maybe.
Former Bucs receiver turned ESPN voice Keyshawn Johnson calls Jimmy GQ "a good fit" for the Bucs. But not that good.
"I think it would be interesting to see (laughs); [with Jimmy GQ] I think [the Bucs] are a playoff team. There is no question that they are a playoff team," Johnson said this week on ESPN Radio. "But when you win a Super Bowl, your standards are a little bit different than Jimmy Garoppolo when you lose Tom Brady. … Jimmy G may be better suited for me and my money with the Pittsburgh Steelers."
Would Niners GM John Lynch help his old friend Mike Tomlin out with a trade of Jimmy GQ to Pittsburgh? Or would he prefer to assist Bucs general manager Jason Licht and Lynch's beloved Buccaneers? Licht and Lynch were trade partners in 2020.
Regardless, Joe thinks Jimmy GQ is an acceptable fit for the Bucs to make a one-year sprint to another Super Bowl. He's hardly the only guy on Joe's list, but with the Bucs defense playing to its capabilities and a more consistent run game, the Bucs would be hard to beat.