Panthers GM: "For The First Time, This Is A Wide-Open Division"
February 4th, 2022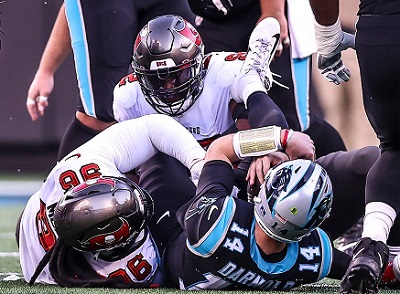 Fighting words from the Carolina Panthers general manager.
Joe actually slammed a Big Storm beer can to the floor of JoeBucsFan.com world headquarters in February. That's rare.
Panthers GM Scott Fitterer is at the Senior Bowl trying to figure out why he traded for Sam Darnold and then extended his contract trying to fix his 5-12 football team and its sad offensive line.
He took time to talk to SiriusXM NFL Radio and was asked about the retirement of Tom Brady and major change in New Orleans leading to a new NFC South.
"It is wide open," Fitterer said of the NFC South. "We want to be competitive. We're going to do it, you know, piece-by-piece though. We're not going to go all-in this year just trying to win this year. We have to build it the right way. We have to be disciplined.

"But yeah, for the first time, this is a wide-open division. We feel good about the situation we're in. You know, we have a good head coach who's got a plan. We've got an owner who's supportive of us. So it's there for the taking but we have to do it the right way."
Joe was glad to hear the Panthers aren't going all-in to win in 2022. But it was truly annoying to hear what Joe believed was disrespect for the Bucs in Fitterer's voice.
This isn't the 2019 Bucs with Jameis Winston throwing six interceptions and Ali Marpet getting worked over by then-Panthers defensive tackle Gerald McCoy while immortal quarterback Kyle Allen carved up the Bucs defense in a blowout.
The Bucs will field a fantastic roster and should be the clear favorites in the division.