Tyler Conklin And The Bucs
February 24th, 2022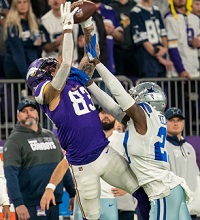 Joe struggles to believe Rob Gronkowski will play for the Bucs this season, O.J. Howard will be desired by Bucco Bruce Arians, and that lost-a-step Cameron Brate will be worth the money at 31 years old.
So Joe embraces change at tight end, and it would be nice to have a young, do-it-all tight end on the rise, one who also might represent great value.
How about Vikings tight end Tyler Conklin?
The former walk-on at the University of Central Michigan was a fifth-round pick for Minnesota in 2018, and he had to grind his way to playing time behind Pro Bowler Kyle Rudolph and others. He got his first major shot last season as a No. 1 tight end and made the most of it. Conklin can block, and he caught 61 balls for 593 yards and three touchdowns.
No, Conklin is not a superstar talent, but he certainly seems like a valuable and affordable piece with low mileage on his body.
So what is he looking for as he excitedly hits free agency? Conklin sang the lyrics of the open market to SiriusXM NFL Radio today.
"I talked to my agent about [free agency]. Obviously, No. 1 is, who's the quarterback? And No. 2 is do they use their tight ends?" Conklin explained.
See "No. 1."
Joe will remind fans that guys like Chris Godwin and Leonard Fournette will have the same "No. 1."
Joe expects Conklin would like how the Bucs use tight ends in their diverse but pass-heavy offense. It's hard to part ways with familiar names, especially Super Bowl names, but Joe is certainly expecting that at tight end.