Rich Eisen: Hope For A Tom Brady Return Is Real
February 8th, 2022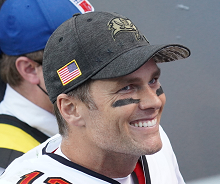 The male face of NFL Network is not one to toss around a pile of BS.
Joe is a big Rich Eisen fan and a frequent listener to The Rich Eisen Show on the SiriusXM app and Peacock.
Tom Brady opening the door last night to playing again stunned Eisen. And today Eisen explained to NFL fans in great detail that a Brady return would mean coming back to the Buccaneers — not angling to play for the 49ers or any other team and demanding the Bucs release his rights.
"No chance," Eisen said of Brady playing for a team other than Tampa Bay. "He's sittin' there, there's a team that needs him, it's a team that he's come to know. You're saying there's a chance — because he just did. That creaking noise you just heard was the retirement door open and it's left ajar."
So why did Brady leave that door open just a week after retiring? He could have laughed off the question but he almost sounded like he already is missing the game and thinking of playing.
Eisen said he was surprised to see a little Brett Favre in Brady and that Brady may struggle mightily as the 2022 season approaches and begins.
Joe is willing to keep hope alive. Not only is it fun, it's certainly a Brady return is not an outlandish concept. Joe sure hopes Bucco Bruce Arians invites Brady to veteran minicamp for a visit. You know, just to say hello and smell the grass.