Jason Licht's Remodeling Project
February 2nd, 2022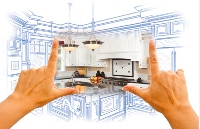 After the 2021 season, Bucs Super Bowl-winning coach Bucco Bruce Arians said the expected (and unexpected) departures means the Bucs would only need to reload, not rebuild.
Bucs AC/DC-loving general manager chose a different but similar word. Speaking last night in a rare February press conference, Licht said he looks at the roster of the Bucs for 2022 as a "remodel."
"I look at it a little bit as a remodel and agree with [Arians]," Licht said,. "We've got seven of our nine Pro Bowlers under contract for next year. We've got a lot of really good young players on this team. We're going to try to re-sign some of our players back and we'll continue to explore players in free agency, as well. We have the draft coming up.

"We're here in Mobile right now (at the Senior Bowl), working on that. We do not feel at all like we're in a situation where we have to completely start from scratch with this roster whatsoever. We have a lot of good players [and] a lot of teams wish they were in our position."
In the 21st century, Joe believes the only teams that won the Super Bowl without a stud quarterback had absolutely dominating, ferocious, historic defenses loaded with future Hall of Famers (Bucs and Crows). (The Eagles are the lone exception, though they got to the playoffs with a quarterback who was playing MVP-level until he blew his knee out.)
Do the Bucs have that kind of manpower on defense? That's debatable.
If you would have asked Joe this question in February 2021, Joe would have answered "maybe." Now? Seems a stretch.
It's not impossible that the Bucs could go deep in the playoffs or maybe reach the Super Bowl with, say, Teddy Bridgewater at quarterback. But the rest of the team would have to play superior, balls-to-the-wall football week in and week out.