Believers Needed
February 2nd, 2022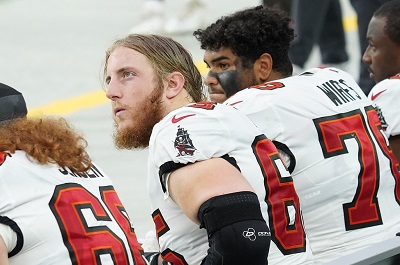 It's common knowledge that Tom Brady raised the games of those around him.
A big part of that had to do with confidence, a belief and trust in Brady that translated to more focused and intense play on the field.
It's not witchcraft or a figment of anyone's imagination. With Brady in command, the 10 other guys on his side of the ball often find a higher plane on which to play.
Official Buccaneers Radio Network game analyst Dave Moore spoke about this recently and noted that perhaps the most important trait of the guy who replaces Brady will be the team's belief in him when trailing in games.
In crunch time, the Bucs can't have a hear-we-go-again loser mentality reminiscent of the Jameis Winston era.
"The good news is everybody that is on the roster now that would remain understands, you know, making plays in key situations and being able to handle the pressure and all that part of it," Moore said. "It's just the belief in who's running the offense that's really what's going to determine their ability to come back in those types games and be able to make the plays when they need to make them."
Can Kyle Trask be that leader? Nobody knows.
Is there a realistically available veteran QB out there who could match the trust the Bucs had in Brady? Doubtful.
Regardless, the Bucs life must go on and Joe trusts Bucco Bruce Arians and general manager Jason Licht to find a trustworthy quarterback who protects the football and can lead men.