Is Gronk Next?
February 1st, 2022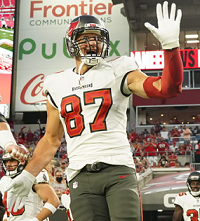 The Tom Brady fantasy is officially over. What a thrill ride it was.
Now the Bucs offense is left with beastly offensive linemen, Mike Evans and a bunch of free agents.
As Joe wrote yesterday, general manager Jason Licht will need to answer the following questions in order to re-sign his top players and recruit others.
Who is my quarterback?
Who is my head coach and how long will he be here?
How much are you paying me?
That applies to Hall of Fame tight end Rob Gronkowski. Would Gronk, still at the top of his game, consider a third Buccaneers season in 2022? Gronk turns 33 in May and while it's easy to say Gronk will hang it up because Brady quit, that's not necessarily reality.
If the Bucs come to Gronk with, say, his former Patriots quarterback Jimmy Garoppolo to replace Brady, and an extra fat one-year contract ($13 million?), would he give it one more year in Tampa?
That sure would go along way toward the Bucs being favored to win the NFC South. And Joe believes keeping Gronk would entice Leonard Fournette to stay in town — knowing Gronk is out there blocking and taking pressure off the run game.
If Gronk leaves, then the Bucs need to go tight end shopping in hurry. O.J. Howard is an unreliable option and Cameron Brate has lost a step and is not a blocker. Also, if Pro Bowl receiver Chris Godwin returns in free agency after knee (ACL) surgery, it's a safe bet the Bucs will want to limit his renowned blocking.
For those who enjoy reading between the tea leaves, Gronk on Sunday, per his girlfriend's Instagram stories feed, was loafing around his living room watching football wearing a Bucs T-shirt. On Saturday, Camille Kostak and Gronk went to Gasparilla and she was wearing a Bucs coat Again, per her Instagram stories account.
Saturday night, Gronk and Camile were hanging with Bucs players and their WAGs.