Former Brady Teammate Reports Arians-Brady Relationship Was "Souring"
February 18th, 2022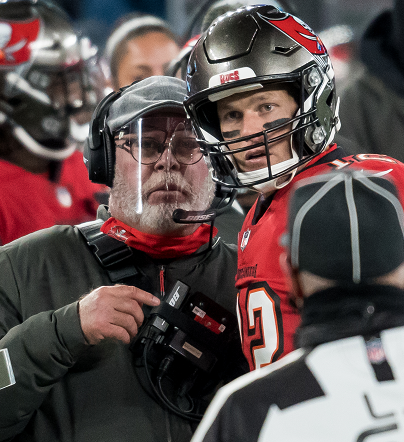 This is one of the more interesting nuggets Joe's heard in a while because it comes from a guy who has a connection to two members of the 2021 Buccaneers.
Former Patriots, Cardinals and Chargers guard Rich Ohrnberger also played college ball at Penn State alongside Buccaneers assistant coach A.Q. Shipley (same year, same NFL draft class), who was a Bucs backup center in 2020 before Bucco Bruce Arians hired him to coach following Shipley's serious neck injury.
So Ohrnberger, who now is a sports radio host in San Diego, not only played with Tom Brady, but he's got a tie to someone intimately familiar with the Tampa Bay offense.
Ohrnberger went on the air today — and took to Twitter — to say that the relationship between Bucco Bruce Arians and Tom Brady "soured" late last season.
The reason, he said per his source, was in part because Arians was rehabbing his blown Achilles, arriving late to the office and then would take out his red pen and nix plays that Brady and offensive coordinator Byron Leftwich had worked on as part of a given week's gameplan.
"I was talking to a guy who's pretty embedded with the Bucs," Ohrnberger began.

(Joe can't help but wonder whether that is is Shipley.)

"…Arians would walk in and red line and put the red pen to all of the work that Brady and Leftwich had done. And throughout the course of the season, real animosity started, you know, percolating between Brady and Arians, and between Leftwich, Brady and Arians. It just sort of turned into this thing where it's like, 'Listen, you're coming in late to the party and you're trying to make waves in the work we've done?"
First, Joe knows Arians doesn't surround himself with a bunch of yes men. Joe expects there to be passionate disagreement among talented football people who care about their craft.
Joe also knows that assistant coaches often feel undermined by their bosses, as do scouts in the personnel department. It's like that all over the business world. The boss is the boss and that's how the world works. You deal with it.
But Brady has a unique ego and certainly a one-of-a-kind commitment when he's playing football. So Joe could see Brady getting butthurt and sour on his head coach for situations like this (if they're true). It's in the ballpark of chatter that came out of New England, where Brady allegedly wanted more input.
In the end, Joe doesn't buy that Brady wanted to bail on the Bucs because he didn't like Arians' tweaks to the offense in which Brady thrived to the cusp of the MVP award. That makes little sense.
For those who like a good conspiracy theory, Ohrnberger played the 2012 season for the Arizona Cardinals. Arians took over in 2013 and Ohrnberger was not re-signed. He played two more seasons for San Diego.
Earlier today… @ohrnberger laid out a reason behind the #TomBrady "retirement".

🎧 👇 pic.twitter.com/VHxBepFuWc

— HartmanAndRichOShow (@HartmanAndRichO) February 18, 2022