Casey Hayward And The Bucs
February 17th, 2022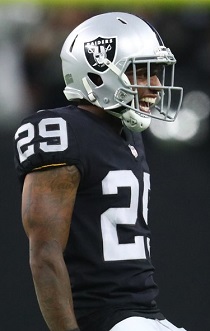 It's no fun to think of the Bucs losing one of their premier free agents, but Bucs fans need to brace themselves now before the free agency siren blows at noon on Monday, March 14.
Cornerback Carlton Davis is in line to be paid like a top-15 starting cornerback. That means he'll want $12 million per season or more when March rolls around.
Is Davis worth it? Maybe, but perhaps not in the context of what the Bucs want to achieve with their roster.
Maybe general manager Jason Licht wants to save cash and play a form of the bridge game again, like he did with 33-year-old Brent Grimes and Vernon Hargreaves back in 2016. Licht signed Grimes to a one-year deal worth about $8 million and drafted Hargreaves in Round 1.
Somehow, the Bucs led the NFL that season in third-down defense, in part because Grimes played at a Pro Bowl level (led the NFL in passes defended) and Hargreaves hung tough as a rookie.
This memory brings Joe to veteran cornerback Casey Hayward, who turns 33 in June. Hayward started every game at corner for the Raiders' 13th-ranked pass defense last season.
He was a major bargain at under $3 million. And the two-time Pro Bowler could be a hell of an option for the Bucs if they're looking to draft a cornerback with a first- or second-round pick and then have great competition among Sean Murphy-Bunting, Jamel Dean, Hayward and the rookie.
Davis is the Bucs' best corner and Joe wishes he could stay, but the Bucs may choose to invest heavily elsewhere.
Enjoy The Recent Ira Kaufman Podcast