Warren Moon: My Family Wanted Me To Quit At 44 Years Old
January 27th, 2022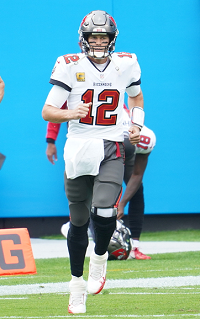 A Hall of Fame quarterback who played at 44 years old told a timely tale this week on CBS Sports Radio.
Warren Moon finished the 2000 NFL season at that advanced age as a backup for the Kansas City Chiefs. Moon made a start that year, his second with the Chiefs, and had a decision to make in January.
It seems Moon wanted to keep playing. However, his family asked him to quit. Moon explained that during his two seasons in Kansas City, his family was living in Houston. They encouraged him to keep playing when he left the Seahawks and went to the Chiefs for the 1999 season, but Moon said the annual postseason family conversation changed after the 2000 campaign; his loved ones wanted him to hang it up and come home.
Moon obliged.
Yes, this chatter emerged when Moon was asked about the unclear future of Tom Brady.
Of course, it's a very different story with Brady, who may be the best quarterback in football. He's no backup, and he lives with his family in South Tampa, not in New England.
Like former Bucs QB Vinny Testaverde, who also played at 44 years old, Moon is blown away by how well Brady is performing rather than just admiring that he's still on a roster. Moon sounded a bit awestruck by the amount of work it must take to physically thrive in the game like Brady does.
And that might be what drives Brady to retire, the time commitment required — all the stuff fans don't see — for an old man to have what it takes to perform through a 22-week run to a Super Bowl.