Tom Brady Throws Shade At Newly Retired Ben Roethlisberger
January 28th, 2022
You can call Tom Brady the greatest quarterback and you wouldn't be wrong. But if he hangs it up in the coming days, maybe his next goal is to be the greatest marketer.
Yesterday upon learning the news that long-time Steelers quarterback, Georgia lakehouse neighbor and golfing buddy of Bucs Super Bowl-winning coach Bucco Bruce Arians, Ben Roethlisberger, is turning the page on a Hall of Fame career and becoming a full-time daddy, Brady took the moment to offer his former AFC rival congratulations.
And he also took the moment to pitch his TB12 product line and tweak Roethlisberger's nose at the same time.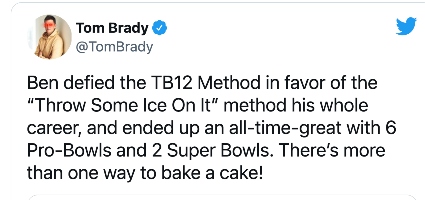 So is Brady suggesting Roethlisberger would still be playing if he went the TB12 route? Or is Brady hinting that he will last longer than Roethlisberger because of the TB12 products?
Like everything else with Brady, we likely won't know for a while.
Every Bucs fan sits… and nervously waits.
Your friend that doesn't know about the open container policy on Bayshore pic.twitter.com/hKf1SVZq6v

— Big Storm Brewing Co (@BigStormBrewing) January 27, 2022