Tom Brady Creates "Arbitrary Pressure" For Young Players
January 13th, 2022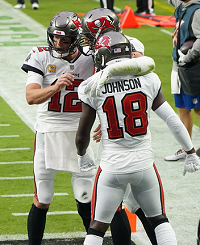 Coach Brady shared one of his secrets today.
A couple of weeks ago on SiriusXM NFL Radio, receiver Cyril Grayson told a tough-love story about how Tom Brady hurt his feelings last year. But the end result was Grayson's career shifting in a better direction.
Brady was asked today after practice about how and why he pushes practice squad players and youngsters on the roster.
It's all part of a master plan.
"I think it's important, you know, to put a lot of pressure on guys because you don't know how they're going to react. And if they're not in there playing, you don't get to see it very often," Brady explained.

"When they get their chance, you know, you don't want it to be their first time in a pressurized situation. So I am tough on those guys. Sometimes I do something that I kind of, you know, force the issue and create some arbitrary pressure just to kind of see how they react. It's not like Mike [Evans] needs that. It's not like Chris [Godwin] needs that. But young guys who haven't played, they need that. And you want to see how they respond to the adversity."
How cool is that? Brady is such a master at working with young players, and old players, and coaches.
Joe can only wonder how Brady has pushed Ke'Shawn Vaughn and Jaelon Darden at times.