"They Have The Formula To Beat The Bucs"
January 11th, 2022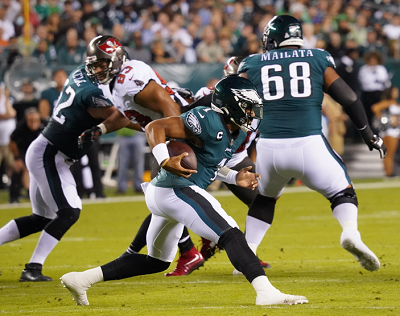 Don't think LeSean "Shady" McCoy is a real insider when it comes to the Buccaneers?
Consider that during the latest I Am Athlete show, Buccaneers savior linebacker Devin White called McCoy (who had forgotten to shut off his cell) and co-host Chad Johnson insisted he take the call on the air.
McCoy spent last season with the Bucs and also logged six years with the Eagles, so Joe was very interested to hear Shady this morning on SiriusXM NFL Radio.
Believe it or not, he was saying the Eagles are well-positioned to win on Sunday in Round 1 of the playoffs.
"So they have the formula to beat the Bucs, keep Tom Brady off the field," Shady said of the Eagles' approach to their league-leading ground game. "They spread you out, make the box light … three wide-receiver sets."
Shady likes the bruising ability of running back Jordan Howard (4.7 yards per carry) complemented by the run-pass option game of quarterback Jalen Hurts. Shady didn't mention top-dog Eagles RB Miles Sanders, but he might return Sunday after breaking his hand in Week 16.
Interestingly, Shady is unimpressed by the Bucs run defense unless they get guys like Lavonte David and Shaq Barrett back healthy. He did not mention White at all, despite the recent phone call and their apparent close relationship.
Tyler Johnson and Scotty Miller are underestimated in the Bucs offense, per Shady, and he's definitely not worried about the Bucs putting up points.
Shady didn't pick the Eagles to win, but he said with the Eagles running well and now playing to Hurts' strength with a short passing attack, Sunday's game "will be a lot closer than people think."