The Morning After
January 3rd, 2022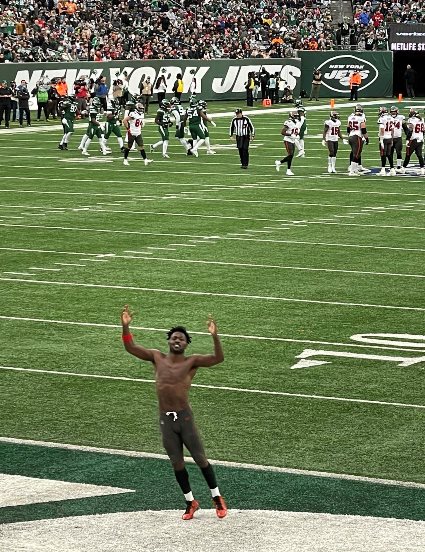 Wow, what a crazy day yesterday. When is the last time the Bucs had such a dramatic, come-from-behind, important win fully overshadowed by a player going completely bananas and getting thrown off the team? Grab your mug of coffee and let's roll. It's another Victory Monday!
Antonio Brown Wigs Out
Joe often takes pride in having the pulse of the fans and writing about subjects fans care about. And given the success here since launching in August 2008, Joe thinks he's got a pretty good idea of what fans want to read.
This time, Joe is really torn. After a lot of thought, Joe thinks the antics of a disturbed Pro Bowl, star receiver getting thrown off the team in the third quarter just before the playoffs begin probably trumps a three-score, come-from-behind win on the road.
Now the football purists will howl at Joe for putting Antonio Brown over a key win. But here's why: Brown's stunt may have far-reaching ramifications on the Bucs' chances to repeat as Super Bowl champs. The Bucs had wrapped up a division title and secured a home playoff game whether they won or lost yesterday.
What happened yesterday sort of reminded Joe of the time in 2016, with the Bucs in a chase for a wild card on Christmas Eve at the Superdome, Doug Martin was a healthy scratch. Your starting Pro Bowl running back is not active and he's not sick or hurt? Joe went into full Doug Martin mode.
Joe was speaking with Bucs players and officials about Martin in the locker room. The ballgame was backburner material. We knew who won; we didn't know about Martin's future. The Bucs lost a key game, yes, but the story was Martin. A few days later Martin was shelved for the season with a substance issue.
That's sort of what yesterday felt like. Difference here, Martin still had a future with the Bucs when he was benched out of the blue. Brown may have thrown what's left of his NFL career into the MetLife Stadium stands along with his undershirt and gloves.
(What are the odds Brown plays this spring in the USFL?)
Why Brown refused repeated orders from Bucs Super Bowl-winning coach Bucco Bruce Arians to get on the field is a current mystery. If he was really hurt, he could have alerted trainers who would have told Arians.
Here is what Joe will say about that: If a player is healthy and refuses to take the field after repeated orders, to Joe, that is on the very same level as throwing the game. So yeah, Joe would have tossed Brown off the field and sent him to the locker room, too.
Brown pulling his stunt with throwing stuff into the stands and then doing jumping jacks topless in the end zone (while the game was going on) and waving goodbye at the Bucs before running into the tunnel pretty much sealed his own fate. That was as gutless as Chicago Bulls forward Scottie Pippen walking off the court with seconds left in playoff game as he threw a temper tantrum because he wasn't getting the last shot.
Is Joe sad Brown is gone? Of course. Joe is convinced the Bucs needed Brown to repeat. But who knows, maybe the immortal Cyril Grayson can play over his head and help the Bucs get to Los Angeles?
Did Brown deserve to get run? Absolutely. He's a quitter. He quit on the Steelers on the cusp of the playoffs and now he quit on the Bucs on the cusp of the playoffs. Two playoff teams he has quit on in four seasons just a couple weeks before the playoffs began.
Can the Bucs win the Super Bowl without Brown (and without Chris Godwin)? Joe doesn't think so. But better for Brown to punk out now than in the middle of a playoff game. At least now, Arians knows now who he can depend on.
More Virtue Signaling
The virtue-signalers had a collective conniption when Arians decided to keep Brown after his fake V-card hassle a couple of weeks ago. They finally got their wish yesterday with Brown now unemployed and their reaction was so, so predictable.
Vendetta, anyone?
Joe was so appalled by the following he's not even going to mention this columnist's name and/or publication (it's a national outfit) because that person doesn't deserve the SEO traffic. But this national columnist claimed Arians must really feel like a heel now because he didn't do — in this person's eyes — the right thing and pull the cord on Brown weeks ago.
And the same stenographer claims Brown has really made Arians look like a fool.
Man, talk about tunnel vision and not being able to see beyond your narrow, myopic, cartoonish, sheltered world.
Yeah, Joe is confident Arians goes home each night, picks up his Super Bowl ring and rubs his fingers over it to make sure he's not seeing things, then checks his various bank accounts and notices the bonuses he got for winning the Super Bowl and the raise he got from Team Glazer for winning the Super Bowl — and the money he made for writing his book about winning the Super Bowl — and says to himself, "Man, what a total fool I am for having Brown help the Bucs and our players win a Super Bowl. I should have let my entire franchise and never signed him and p!ssed off the greatest quarterback in history and thrown away hundreds of thousands of dollars that someday will go to my grandchildren. I should just slit my wrists right now!"
Sometimes, Joe cannot believe the fantasy world some live in.
Oh Yeah, There Was A Game
This almost seems ridiculous to type, but was anyone surprised that of all people, it was Tom Brady who led the Bucs on an 18-0 run in the final 22 minutes to pull victory from the teeth of defeat?
When the Bucs got the ball down four with just over two minutes left, was anyone remotely surprised that two minutes later the Bucs had the lead?
This is Tom Brady, folks.
If the Bucs weren't in the red zone in the final seconds, that would have been more of a surprise than the Bucs winning. Brady does what Brady does. It's second nature for the guy.
That takes no luster off of a comeback win, but Joe is actually a little more frustrated than giddy. We're talking the Jets here, people, a defending Super Bowl champion and a current division-winner fighting for a better seed should not be down three scores to this sorry-arse Jets and a struggling rookie quarterback in the third quarter.
Or was this some twisted exercise for defensive coordinator Todd Bowles to get out of an interview with the Jags?
The playoffs start in less than two weeks. Right now, Joe doesn't know which Bucs team shows up at the Stadium on Dale Mabry Highway for the first home opening-round playoff game since January 2008.
Will it be the Bucs who throttled the Bears and Stinking Panthers and outfought the Bills and Colts for wins, or is it the team that got slapped around by the WTF and the slimy Saints twice and came within an eyelash of losing to the godawful Jets?
This Bucs team is so, so inconsistent.
The Immortal Cyril Grayson
If there is a silver lining to Brown wigging out yesterday, it gives more of an opportunity for the immortal Cyril Grayson to make a name for himself.
(Just a reminder, Joe refers to Grayson as "immortal" because it's sort of a nod to the late, great GOB Chris Thomas, who would refer that way to unknown players making key plays. Former Bucs guard Ian Beckles on his podcast last year went bananas when the Bucs were so injured at receiver and Grayson was targeted by Brady, a pass that bounced off Grayson's face mask and triggered Beckles. On his podcast, Beckles roared about why Grayson was on the field and why the Bucs couldn't do better in player acquisition and said, "Who is Cyril Grayson? I never heard of this guy in my life!")
Grayson, a former practice squad guy and former LSU track star who never played football in college, made a monster play against the slimy Saints, looked solid against the Stinking Panthers, and of course, yesterday made key plays including the game-winning 33-yard pass from Brady to win the game with 15 seconds left.
The reason Brown was on the team was for his big-play ability and he came through time and again. Well, Grayson is starting to show that same ability.
Maybe it's not to the Hall of Fame level of Brown (his 10 cent head may have killed those dreams), and Grayson certainly has the wheels to get behind defenses.
So maybe he can provide just enough offense to keep the Bucs alive in the playoffs. Pretty safe bet that Grayson won't go mental on the sidelines, throw his jersey and shoulder pads off, throw his gloves and undershirt into the crowd and then do topless jumping jacks in the end zone before waving goodbye to teammates and running off the field.
The Power of Tom Brady
Running back Le'Veon Bell hasn't been with the Bucs long enough to scrub his toilet. But already you can see in his eyes and hear in his words how much respect he has for the veteran Bucs' quarterback.
After yesterday's game, Bell said on the final game-winning drive there was no stress at all. Why? Because Bell and his Bucs teammates had all the confidence in the world Brady would find a way.
"It felt incredible," Bell said. "As composed as he is and accurate, as much leadership as Tom [has], really, there was no second-guessing," Bell said. "I had so much confidence we would go down there and score. I was just glad to be a part of it and be on the same drive as him."
Now that's respect. And that's also why Brady has seven rings. He makes everyone around him not just better, but confident.
You guys Antonio Brown is in my driveway what do I do.

— David Spade (@DavidSpade) January 2, 2022
Bigger Diva: Antonio Brown or Terrell Owens pic.twitter.com/Fjx2b9RnLg

— StPatrickFF🍀 (@stpatrickff) January 2, 2022