Rams 30, Buccaneers 27
January 23rd, 2022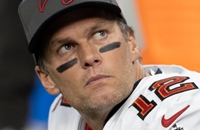 The glorious run is over.
Tampa Bay entered today's game winners of 22 of their last 26 games, including the Super Bowl. And it all came crashing down at The Licht House against Matthew freakin' Stafford and the Rams.
What the heck happened?
The uninspired first-half effort really troubled Joe. How does that happen — at home?
And how do "leaders" like Ndamukong Suh, Tom Brady and Lavonte David end up with first-half personal fouls? The overall lack of discipline was astounding.
The defensive breakdowns were those of an inexperienced secondary, not a battle-tested unit like the Bucs'.
Pass rush? The Bucs had no pass rush of note and, as usual, Vita Vea (a guy who was having some success rushing the passer) was limited to part-time duty for unknown reasons.
This kind of embarrassment is not supposed to happen to a Tom Brady team. And perhaps, though Joe highly doubts it, this won't be a Tom Brady team in a few weeks.
Joe feels like he just went to a fantastic restaurant and was served an average and cold dinner with horrible service, a few bugs in the water and a dirty napkin. At least the server looked good.
Little went right for the Bucs today, and that includes atrocious special teams play and horrendous tackling. Sean Murphy-Bunting, Joe's looking at you.
Joe was really disappointed to see Pro Bowl guard Ali Marpet and Donovan Smith get worked over too many times, and the rest of the line get beaten on, as well. It was expected from Josh Wells filling in for Tristan Wirfs, but it was a rough day for all of them.
Joe has to tip a cap to Antoine Winfield, Jr., Jamel Dean and Suh for forcing fumbles that kept the Bucs in the game. Those are the kinds of plays you need to win in the playoffs, and they must be commended for delivering. Huge, huge plays. The Bucs got three of them and still lost. Unbelievable! What a waste of a heroic comeback.
Joe is going to be sick for weeks over this one, especially with the Bucs coughing up a chance for home field advantage in the NFC Championship.
Yeah, it's easy to blame the officials and a stupid rule — and Joe will be right there with you — but that's not why the Bucs lost. It might actually be easier to deal with if that were the case.