Please Don't Retire, Tom Brady!
January 23rd, 2022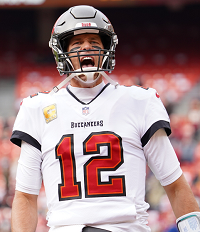 Don't do it, Tommy.
Not like this.
Not after taking a kick-to-the-gut loss that will leave Bucs fans with their collective wind knocked out for months.
Please, Tom Brady, please look in the mirror and look at the fight in your team and vow to fight with them another day — another year.
Brady was under major duress all day against the Rams and managed to finish 30-for-54 for 329 yards and a touchdown. Today he executed one of the great playoff comebacks in NFL history, one that came up short because the Bucs' secondary was partying like it was 2019.
Brady has more greatness in him. It's obvious. Team Glazer needs to do whatever it takes to convince Brady to return for the 2022 season. Give his TB12 company a free sponsorship at Manchester United, if you have to. Brown bags of cash work, too.
Joe can't bear the thought of these glory days of Bucs football ending. And they're not about Todd Bowles or Byron Leftwich. They're about No. 12.
There's been a lot of chatter about Brady retiring this winter. Joe heard more of it in the press box today from excellent sources — not that it will happen, just that it's on the table more than it's been in past years.
Say it ain't so, Tommy.