Perfect Climate For Byron Leftwich To Be Hired This Week
January 9th, 2022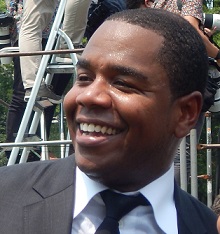 Were rising NFL coaching stars Nick Sirianni and Zac Taylo more qualified to be head coaches than Byron Leftwich is right now?
For those who care little about teams outside Tampa, 40-year-old Sirianni is the Eagles' first-year head coach. He got the job after a few years as offensive coordinator under Colts head coach/playcaller Frank Reich. Sirianni was a Division II wide receiver during his playing days. Now Sirianni has the Eagles in the playoffs against the Bucs.
As for Taylor, he's the 38-year-old former Sean McVay protégé who just won the AFC North in his third year with the dangerous young Bengals.
The NFL has always been into copycat-style hires, and Leftwich, 42, sure has a more impressive resumé than those guys did when they got head coaching jobs. So Joe thinks the time is ripe for Leftwich to get a job quickly as the hiring season begins this week.
Leftwich interviewed for the Jacksonville job last week, as did Bucs defensive coordinator Todd Bowles.
With the Jaguars shocking the NFL world today with their pounding of the Colts, and their young quarterback Trevor Lawrence having his best outing of the season, Joe has to believe the Jags are leaning more toward hiring the best QB mentor they can find.
Maybe that's Leftwich, who certainly fits into the young-offensive-guru box that appears to be the flavor of the day for NFL owners.
It certainly didn't hurt Leftwich's cause to see 42-year-old playcaller/head coach Kyle Shanahan find his way back to the playoffs today, while young offensive minds lead the playoff-bound Packers and Cardinals.
If Leftwich can't get a head coach gig this month, it tells Joe he's not giving a good answer when asked to name the key assistant coaches he'll bring to a new job.