"Once We Figure The Other Team Out, They're In Trouble."
January 10th, 2022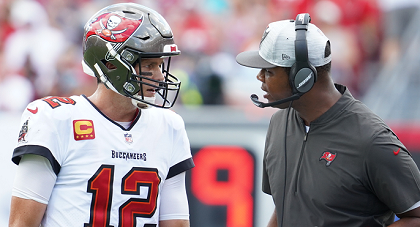 Confidence was oozing from Bucco Bruce Arians this afternoon while he talked about his No. 2-ranked offense.
Defense was a little different story.
Asked about how the Bucs have hammered their last two opponents in the second half, Arians pointed to his staff and Tom Brady.
"Once we figure the other team out, they're in 7, when Tom figures you out," Arians said.
Arians again lauded general manager Jason Licht and VP of player personnel John Spytek for steadily replenishing the Tampa Bay roster. And he emphasized that offensive coordinator Byron Leftwich is the man putting together the weekly gameplan.
Of course, the key for the Bucs is figuring an opponent out in the first quarter and first half, like they did against the Bills and many others earlier this season. Remember, the Bucs had a 21-7 halftime lead against the Eagles in Week 6 before getting up 28-7 and letting the Eagles almost crawl back into the game as Philadelphia scored the final 15 points.
This is where Joe believes Brady and the Bucs gain a postseason advantage. Brady seeing a team not named "New Orleans" for a second time in a season is a huge advantage for the Bucs, Joe believes. Brady's too smart and savvy to not take advantage.
If the playoff seeding holds, the Bucs will face the Eagles, Cowboys and Packers to reach the title game, all teams that Brady has plenty of experience against. It's a big reason Joe prefers not to see the 49ers or Cardinals in the playoffs.