Mike Evans And Chris Godwin Thank Tom Brady
January 29th, 2022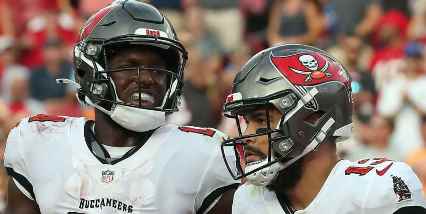 The sadness is flowing at JoeBucsFan.com world headquarters, as is the appreciation.
Tom Brady has left the building. Yeah, there are social media rumblings that might lead one to believe Brady isn't really retiring. But Joe can't go there.
Two of Brady's closest friends on the Buccaneers sent him public Twitterings of love this afternoon as The Goat prepares to move on. You can see them below.
Others on Twitter have been shouting retirement messages at Brady, from wide receiver Cyril Grayson to Bucs legend Derrick Brooks.
It's real. And it hurts real bad. But it's also invigorating.
The Bucs still have a strong roster in a crappy division. They have what they need to make sure a veteran quarterback with a prayer of winning a Super Bowl is under center next season. And as for the Bucs' looming free agents, most guys go where the money is, and the Bucs aren't broke.
Thanks for everything big bro it was an honor @TomBrady 🐐

— Mike Evans (@MikeEvans13_) January 29, 2022
The best ever. Congratulations bro @TomBrady grateful to have gotten to share the field with you! Much love fam 🐐

— Chris Godwin (@CGtwelve_) January 29, 2022