Ian Beckles: Antonio Brown "Is A Difference-Maker"
January 1st, 2022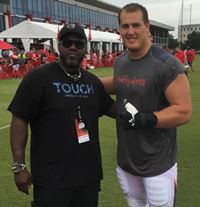 What better way to start 2022 than with Ian Beckles?
The former Bucs guard and current popular local sports radio personality had all sorts of  Bucs views this past week in his podcast "In the Trenches." From the Bucs' Super Bowl chances to the play of its stars to an underperforming player Beckles hopes is in the final weeks of his Bucs career.
Beckles likes the way the shorthanded Bucs took it to the Stinking Panthers on Sunday. But they should have, Beckles noted.
"The Buccaneers just manhandled Carolina in every way," Beckles said. "And the Buccaneers are extremely short-handed, which is not an excuse because a lot of teams are short-handed out there.

"But the Buccaneers roll up into that game without Mike Evans, without [Antoine] Winfield, without JPP. I mean those are all captains. That's a big deal."
On Antonio Brown:
"AB is a difference-maker, no doubt about it. Listen, anybody who thinks he shouldn't [play] doesn't own a company. Anybody that says Antonio Brown shouldn't be on the field doesn't own a company and doesn't know the importance of making money.
"When it is all said and done and Bruce Arians is retired, nobody is going to say, 'Well, what about AB? How come you played AB?' Nobody is going to care. It's going to be about how many games you won and how many games you lost. And that is it. … Long and short of it is, we need AB."
On how the Bucs look ending the 2021 calendar year:
"Playoff team. If you are asking me if they can do what they did last year, um, I'm not sure about that. Is it because of what I see on the field? Partially.
"It just doesn't look quite right to me. Do we beat Green Bay in Green Bay? Nope. I don't even know if we could beat New Orleans in New Orleans with that team. I really don't."
On tight end Rob Gronkowski:
"Gronk is off. I don't know what is going on with Gronk. It's almost that [Tom] Brady is looking away from Gronk. I don't know if he has ever [done] that in his career. Gronk dropped a ball in the end zone.
"One thing about Brady, he doesn't give a rat's @ss who you are. He's going to let you know what's going on and how you can help and what you can be doing better.
"Last couple of weeks, Gronk has had a lot of targets and not a whole lot of catches. Brady isn't going to keep coming to ya now. That's just the way it goes."
On how his perception of the Bucs has changed in recent weeks:
"This Buccaneers defense, if you asked me three weeks ago if the Buccaneers were good enough to make it to the Super Bowl, I would have said this: 'Offensively they are good enough but defensively they are not good enough.' I may have to flip that script now.
"Getting sacks, getting pressures, getting interceptions, that's what it is all about."
On safety Jordan Whitehead:
"He was everywhere! Everywhere. A couple of times, I had to keep looking to see if that was him. He was everywhere. I think there were times he made two plays on one snap. He was literally everywhere on that field. Very impressed with what I saw from him."
Beckles said he is disappointed in how the Bucs are running the ball:
"In January, you are going to have to run the football. I'm not sure this Buccaneer team can. It is essential to run the football. They did that last year. When it was essential to run the football they ran it and ran it successfully. They are not quite doing the same this year for me."
Beckles struggles to finish a podcast without throwing rocks at tight end O.J. Howard. This episode was no different. In answering an e-mail about his thoughts that Howard may have turned into a good run-blocking tight end, Beckles teed off:
"Let me say this: If you are going to draft a guy in the first round, to be a blocker in his fifth year, that's not the best pick [laughs]. If you are picking someone in the first round, I would like to believe they are more than just a blocker at tight end in the last year of their contract.
"So, I am looking for a little bit more from O.J. Howard. Actually, to be honest with ya, I'm not looking for nothing from O.J. Howard anymore. There is nothing O.J. Howard can show me right now to make me want him to come back next year.
"What would make you want O.J. Howard to come back next year? Which is the play? He's had years to show you play-after-play of why he would be a good Buccaneer. Which is thee play? You can't come up with one? Well, maybe that should be your answer right there.
"I have nothing against O.J. Howard. He's just not a good football player. That's it. … You think the Bucs are scared he goes somewhere else and balls out? [Laughs]. I don't."
Beckles then said with strong emphasis that even though he played offensive line, if he played tight end for five years, he would produce at least one play fans would remember whether it was catching a ball in a crowd, pulling away from a defender or pancaking a defender downfield to spring open a ballcarrier.