"I Have A Different Outlook On How Long I Want To Play Now"
January 22nd, 2022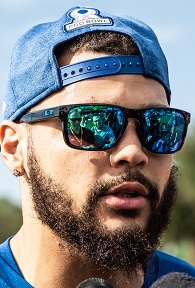 Will Bucs fans enjoy another 10 years of Mike Evans?
How about 12?
The best receiver in Buccaneers history is 28 years old and was telling NBC Sports this week that Tom Brady has taught him so much. Evans was asked to choose what he's learned most from The Goat and he went right to body maintenance and then dropped encouraging words to his fans.
"I have a different outlook on how long I want to play now," Evans said.
Joe is nodding with a smile. This could be part of Brady's lasting legacy in Tampa.
Imagine if Brady counseling Evans in the area of diet and fitness leads to Evans getting more prime years out of his body. That would be as good as dropping bags of gold at One Buc Palace.
Larry Fitzgerald gave the Cardinals 17 seasons at wide receiver in his Hall of Fame career. Joe could see Evans going at least that distance.
---
Buccaneers legend Derrick Brooks and Sage of Tampa Bay Sports Ira Kaufman fire up another edition of TAMPA TWO. Another fun production from The Identity Tampa Bay and Joe.