Gameday Tampa Bay
January 2nd, 2022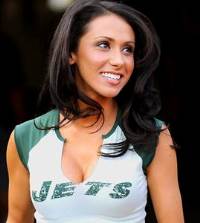 Game 16
Bucs (11-4) at Jets (4-11)
Kickoff: 1 p.m.
TV: WTVT-TV Channel 13, DirecTV Channel 713.
Streaming: Fans may stream the broadcast from Buccaneers.com or on a mobile device using one of the following: Buccaneers official app or Yahoo! Sports app. Geographic restrictions apply.
Radio: Buccaneers Radio Network WXTB-FM 97.9 in the Tampa-St. Petersburg region (Transmisiones de radio en español en WTMP-FM 96.1 y WMGG-AM 1470 en Tampa). Additional stations throughout Florida on the Buccaneers Radio Network can be found here. The game will also be broadcast on SiriusXM Channel 119 (Buccaneers Radio Network broadcast).
Weather: Ugly, ugly weather, per AccuWeather.com. It is supposed to rain off and on all day in SopranosLand with the temperature for tailgaters in the mid-50s, which should hold through the afternoon.
Odds: Per BetMGM, as of noon Saturday, Bucs -13; over/under 45.5.
Zebras: Referee Alex Kemp's crew is in the middle of the pack when it comes to throwing laundry, per Rotowire.com. Of the 17 NFL referee crews, Kemp's gang has thrown the eighth-most penalty flags (186), Of those penalties, it seems Kemp's crew has a hangup for pass interference. Kemp's crew has the third-most flags thrown for pass interference (10). If Mike Evans plays, look for the Bucs to maybe throw a few deep shots at Evans so he might draw a flag.
Injuries: Bucs — Out: OLB Shaq Barrett (knee), OLB Jason Pierre-Paul (shoulder). Doubtful: DB Richard Sherman (Achilles). Questionable: WR Antonio Brown (ankle), WR Mike Evans (hamstring), WR Justin Watson (quadriceps), S Antoine Winfield (foot). Jets — Doubtful: WR Jamison Crowder (calf).
Outlook: Joe really doesn't have much to say about this game. It should be a win. The way Joe looks at it, hopefully, the Bucs can get an early lead and start subbing guys in the second half.  The injury situation is just getting out of hand. The Bucs could be down their top three receivers. Joe isn't sure that's every happened to a playoff team. If Mike Evans plays, look for Tom Brady to keep hitting Evans until he has 101 yards, which will give him his eighth-straight 1,000-yard season (in 16 games) to extend his NFL record streak to start a career. Last week the Bucs defense played outstanding and Joe doesn't see that changing today. Get this game over with and get the scrubs in.
Trinkets: … Tampa Bay clinched NFC South for the first time since 2007. … QB Tom Brady leads NFL in pass yards (4,580) and touchdown passes (37). Has 7 seasons with 4,500+ passing yards, tied-second most all-time. Needs 3 touchdown passes to join Aaron Rodgers as the only players with three 40+ touchdown pass seasons and Drew Brees as the only players with 40+ touchdowns in consecutive years. Has 60 touchdowns (57 passing, 3 rushing) against 15 picks for 93 rating in 36 career games against New York Jets. … RB Ronald Jones had a season-high 81 scrimmage yards (65 rushing, 16 receiving) and a fourth rushing touchdown of the season last week. … Rookie RB Ke'Shawn Vaughn had his first-career rushing touchdown in Week 16. … WR Antonio Brown had 10 catches for 101 yards last week. Has 23 games with 10+ catches, most in NFL history. Has 5+ catches in 5 of his 6 games in 2021. … WR Mike Evans needs 101 receiving yards to become the first player ever with 1,000+ receiving yards in each of his first 8 seasons. Ranks second in NFL with 11 receiving touchdowns in 2021. … TE Rob Gronkowski had 6 receiving touchdowns in 8 career games at the New York Jets and aims for his third in a row at the New York Jets with a touchdown catch. … TE Cam Brate had his third receiving touchdown of the season last week. … LB Devin White has 8+ tackles in 3 of his past 4 games. Is 1 of 2 (Roquan Smith) with 120+ tackles (122) and 3+ sacks (3.5) in 2021. … DL Vita Vea had his 12th-career sack in Week 16 and has career-high 4.5 sacks in 2021. Aims for his third in a row on the road with a sack. … DL Will Gholston had a career-high 2.5 sacks in Week 16. S Jordan Whitehead tied his career-high with 3 pass defensed and had his fifth-career pick last week. Has 7+ tackles in 5 of his past 6. … QB Zach Wilson (rookie) completed 14 of 22 attempts (63.6 percent) for 102 yards and a touchdown without an interception and rushed for a career-high 91 yards last week, including a 52-yard touchdown. Became the fourth rookie QB ever with 50+ yard rush touchdown. He has a rushing touchdown in 4 of his past 5 games. Looks for his fourth game in a row with no interceptions. Leads rookie QBs with 4 rushing touchdowns, second-most ever by a New York Jets rookie QB. … RB Michael Carter (rookie) rushed for a career-high 118 yards last week, his third game with 100+ scrimmage yards this season, tied third-most among rookie RBs. He has 60+ scrimmage yards in 6 of his past 7 games. Carter is the only rookie with 500+ rushing yards (566) and 300+ receiving yards (316). … RB Tevin Coleman aims for fifth in a row with 50+ rushing yards. He has a touchdown in 3 of his past 4 against the Bucs. … WR Jamison Crowder had 5 catches for 48 yards in his only career game against the Bucs (October 2015 when he played for Washington). Leads Jets with 50 catches, his third straight season with 50+ catches. … WR Braxton Berrios led the team with 5 catches and had a 102-yard kickoff return for a touchdown last week, his first-career return-touchdown. … LB C.J. Mosley led the Jets with 10 tackles and had his second sack and forced fumble of the season last week. Looks for his fifth in a row with 10+ tackles. Aims for his third in row against the Bucs with 8+ tackles. Ranks fifth in the NFL with a career-high 142 tackles. … LB Jarrad Davis had a season-high 8 tackles in Week 16. … CB Bryce Hall had a pass defensed last week and has a pass defensed in 4 of past 5. … Rookie CB Jason Pinnock had 4 tackles and his first career forced fumble and pass defensed last week. … DE Ronnie Blair had his second-career fumble recovery last week.
Fun fact: Of the top five active players in touchdowns scored, three (when healthy) start for the Bucs. That would be tight end Rob Gronkowski (92), receiver Antonio Brown (83) and receiver Mike Evans (72).
Breaking down #TBvsCAR with @rondebarber 🎦 pic.twitter.com/zF33NpkSg9

— xz – Tampa Bay Buccaneers (@Buccaneers) December 30, 2021
ICYMI | The #Bucs are already division champs. The Tampa Two look at the importance of that win vs Carolina and how this affects the rest of the regular season including this weekend.

Watch ➡️ https://t.co/kwbAtwo1hz pic.twitter.com/Oce5sgDhqa

— The Identity Tampa Bay (@TheIdentityTB) December 31, 2021