Earning His Hall Pass
January 10th, 2022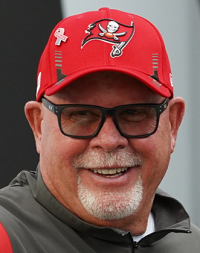 It's pretty cool that so many coaching legends are looking up at Bucco Bruce Arians after his 13-4 season, and that has nothing to do with anyone being six feet under.
Overall, Arians now is 89-51-1 as an NFL head coach in the regular season, if you include his interim duties in Indianapolis when he took over after Chuck Pagano after diagnosed with cancer in 2012. That (.636) winning percentage ranks highly among the NFL greats.
That's better than Andy Reid and Sean Payton. Better than Bill Walsh and John Harbaugh and Bill Cowher, and a shade worse than mighty Mike Tomlin through his 15 seasons in Pittsburgh.
Arians accomplished all this with the Cardinals and Bucs, a couple of franchises that were known for ineptitude. And he stepped into a tough spot in Indianapolis with a rookie quarterback.
Combine that with Arians' postseason success, and one could argue now that Arians already has done enough to get himself into the Pro Football Hall of Fame. Jimmy Johnson is in the Hall after just 80 regular-season wins the Cowboys and Dolphins  — and a lot more losses than Arians. Obviously, Hall of Fame induction is all about numbers and Arians isn't quitting.
Joe's just in full appreciation mode for what Arians has accomplished. Choke against the Eagles and Joe might have a different mindset, but nothing can take away from what Arians has delivered.