Cyril Grayson: Tom Brady Has Set Post-Antonio Brown Tone
January 5th, 2022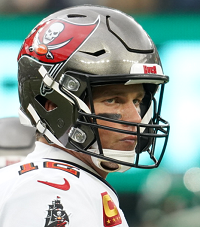 It's over.
Whatever BS spin job you want to believe from whatever media type is claiming to know what happened Sunday, the only facts available are that Antonio Brown ran off the field and out of MetLife stadium like a 5-year-old in need of a timeout, a nap, a juice box and a hug from his soothing granny.
So now what?
Off the field, Bucs officials will do what they can within the rules to screw up Brown's chance to play football this season. Smart business move.
In the locker room, Tom Brady quickly set the tone, explained receiver Cyril Grayson, who made a visit to SiriusXM NFL Radio this week.
"I think that it's unfortunate that we had to lose Antonio in the way that we did," Grayson began. "And I think Tom kind of set the tone perfectly for it [Monday]. 'We have relationships with him outside of football and so we're kind of just praying for the best for him and hope that he sees and gets the help that he needs in certain situations as well as for success in the future.'

"So I think as far as [Brown], that's what we're talking about now. He's a good guy to me. He's always shown me respect and shown me the ropes and stuff like that to. So I appreciate him for the time that I've been able to be around him.

"But as far as the team, I think we've been sending the same message, 'It's the next guy up.' Our only goal is to win."
So Brady is saying love, support and respect Antonio all you want, but nothing gets in the way of the team's process and goals.
Frankly, it's the only smart message to send. Joe was glad Grayson didn't start talking about a team meeting to address how Brown was handled. It's over, and should have been over the minute Brown left the stadium without his team.
Joe can't wait for the Bucs to win it all and see the Instagram video of Brady presenting Brown with his second Super Bowl ring.