"Buc Nation Going To Have It Rocking;" But Will They?
January 12th, 2022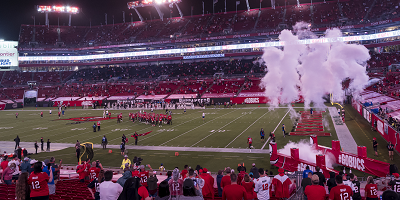 Ninth-year Bucs defensive tackle Will Gholston shared his perspective today in advance of Sunday's Eagles clash at The Licht House.
The biggest difference for Gholston in this year's postseason isn't about experience as defending Super Bowl champs, it's about the post-COVID-freakout environment. Simply stated, packed houses for the postseason will be a game-changer, he explained.
"Buc Nation going to have it rockin'," Gholston said.
But Joe wonders if that will actually happen.
As of this afternoon, there are many thousands of tickets available on the resale market. That's a lot of Bucs fans willing to cough up their tickets. And the 1 o'clock start is a good kickoff time for Eagles fans if they're trying to fly back to Philadelphia on Sunday night.
There also are tons of Philly fans in the area and it's only a 16-hour drive in from the Liberty Bell.
Joe remembers too well the sea of Giants fans at the last Bucs home playoff game in January 2008. It was disgusting, depressing and loud as hell when the Bucs had the ball.
Joe sure hopes Gholston is correct. Red and green is a bad color combination.