Bruce Arians: Word Of The Week Is "Discipline"
January 11th, 2022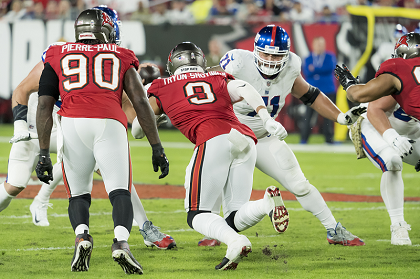 If the Bucs' run defense thrives on Sunday, then the Bucs should dance their way to an easy victory.
But that's no longer a given.
The Tampa Bay run defense went from legendary (2019 through half of 2021) to just pretty good.
Bucco Bruce Arians has cited many factors, and a new one was made public yesterday with Dan Lucas of WFLA-TV, "Some of it is a little bit of young players messing up," Arians said.
Eagles quarterback Jalen Hurts is a true dual-threat guy with a whopping 784 rushing yards in 15 games this season. Arians says his presence will call upon the Bucs to be sound and free of freelancing.
"Assignment football, man. You gotta know who's got dive, who's got the pitch. It's just like running against the option," Arians said. "But then he can drop back and throw it. Scrambling, we had a little problem with Sam Darnold, who's a little faster than most people think. So we gotta be disciplined. "Discipline" is a key word this week."
Joe really isn't concerned, though a blown couple of assignments early could give the Eagles confidence.
One thing to watch: Joe expects Vita Vea and Ndamukong Suh to play far more snaps than the part-time diet they usually are served. That should be a positive for the run defense.