Bruce Arians Won't Say He's Rooting For Arizona
January 17th, 2022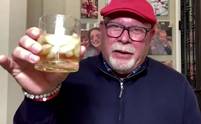 The man who one day will be in the Arizona Cardinals' Ring of Honor (Carson Palmer is already there) wouldn't admit today that he's pulling for the Cardinals to pound the Rams tonight.
C'mon, Bucco Bruce! It's ok. Say it. Say it!!!
The Bucs will face the winner of the Rams-Cardinals game.
Arians is beloved in Arizona for what he accomplished for five seasons (2013-2017). Joe has listened to a hearty chunk of Arizona sports radio since Arians arrived in Tampa, so Joe can speak to the deep love for Arians in the desert.
So Joe had to ask Arians today whether he's rooting for his old team.
Arians played it cool but the smirk emerged quickly.
"It's hard, man," Arians said. "And it'd be harder playing them because I do have so many good friends out there. And I never like playing against friends. But yeah, I'm not rooting for anybody. I just want to find out who the heck we're playing. We know when and where, so let's get it on."
Joe is very confident Arians is indeed rooting for the Cardinals to beat the Rams.
First, Arizona is not the same team since stud receiver DeAndre Hopkins was injured. Second, the Rams have beaten the Bucs in two consecutive games. And lastly, how could Arians cheer against the organization that gave him his first shot to run a team?