Bruce Arians Says "There Would Be A Really Good Chance" That He Calls Plays In 2022
January 24th, 2022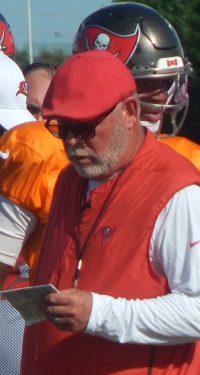 The question had to be asked of Bucco Bruce Arians, so Joe asked it.
"Coach, if [Byron] Leftwich were to move on, would you consider calling plays next season? Or is that completely off your coaching plate at this point?
Arians replied: "There would be a really good chance [of me calling plays], yes."
The head coach went on to explain that his 2022 playcalling preparation during game weeks would be lightened by staff, so it wouldn't be the same burden he took on — and said he could no longer handle — as a head coach/playcaller in Arizona.
Joe considers this a potential selling point to Tom Brady as The Goat considers returning for his third Bucs season.